Family Ties Seminar
This 2-day seminar explores how—through better understanding the beliefs and programs of family and ancestors—we can free ourselves from various obligations and duties that were never ours.
You will have the opportunity to:
• formulate a new sense of identity and direction in life based on your our own true goals and aspirations.
• direct your attention within and let go of family related beliefs that no longer serve you.
• come to better know, recognize and accept yourself in order to lead a freer existence.
• become able to more completely love and accept yourself.
You will experience a comprehensive, genetically focused clearing in this class. You will find issues that will surprise you. This seminar applies the basic tools of ThetaHealing to address a host of issues related to family and a number of innovative exercises are introduced.
Areas of focus include:
• Clearing resentments toward one's parents
• Identifying energetic patterns in one's family and clearing family issues
• Remembering your intention in having been born, and choosing your particular family
• Integration with the higher self
Prerequisites: Basic DNA, Advanced DNA, Dig Deeper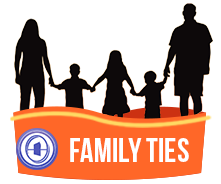 Seattle, Washington
Tuition includes the Family Ties Manual and a certificate upon completion.
Additional information will be sent to you when you register.
Scholarships are available.
Deposits are non-refundable. If you are unable to attend you may use the amount toward a future seminar.